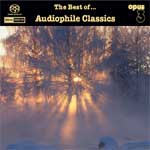 Grupp/artist
Samling av Opus3 Klassiska Utgivningar
Titel
The Best of... ~ Audiophile Classics
Format
SACD
Genre
KonstMusik / Klassiskt
Utgivningsår
2008

Skivbolag
opus3records
Product Code:
CD 22080
Låtlista
01. J.S. BACH (1685–1750) Toccata & Fugue in D minor From: Mattias Wager, Organ [22031]
02. JOHANNES BRAHMS (1833–1897) Allegro from Trio in A minor Op. 114 From: Kjell Fagéus, Clarinet [22021]
03. FRANZ SCHUBERT (1797–1828) Andante un poco mosso, from Trio in B flat major From: Stockholm Arts Trio [19601]
04. FRÉDÉRIC CHOPIN (1810–1849) Largo, from Sonata in B minor, Op. 58 From: Stefan Lindgren, Grand Piano [9202]
05. MAURICE RAVEL (1875–1937) Pavanne pour un infant défunte From: Stockholm Guitar Quartet [22062]
06. LARS-ERIK LARSSON (1908–1986) Concertino for double bass and string orchestra. Op. 45, No. 11 Ballad: Moderato From: Thorvald Fredin [8522]
07. FRANK ZAPPA (1940–1993) Inca Roads From: Omnibus Wind Ensemble [19423]
08. LUDWIG VAN BEETHOVEN (1770–1827) Largetto, from Symphony No. 2 From: Stockholm Sinfonietta - Okko Kamu [19504]
09. Candlelight Carol(John Rutter) From: Erik Westberg Vocal Ensemble [22041]
10. Rauk - Part 1 (Anders Åstrand) From: Global Percussion Network [22011]
Jag älskar det jag hör
Hör 1 samling av det bästa Opus3 gett ut av klassisk musik på 1 album!
Det börjar med fet Orgel & slutar med Slagverk lika magnefika som gotlands Raukar. Där emellan finner man Frank Zappa, fast med kammarblås. Stor tolkning av Brahms med cello, piano & klarinett. Fantastisk Largo av Chopin tolkad av Stefan Lindgren. The Eric Westberg Vocal Ensemble får taket att lyft... Ja, så här kan jag hålla på hela dagen. Det här är egentligen en för mäktig skiva att försöka beskriva. Den måste höras...
Kolla in mer på www.opus3records.com/track/22080.html
Lennart "Mr Z" Olausson
www.ib2.se