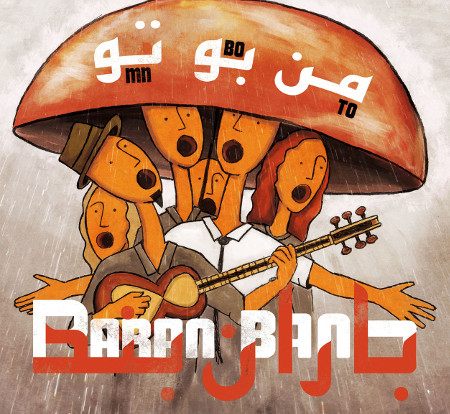 Grupp/artist
BaranBand | باران بند
Titel
mn BO TO

Skivbolag / Distro
Global Music Centre
Genre
KurdiskPersiskt Party
Format
CD
Utgivningsår
2017
Product Code:
GMCD1730
The "Band":

Gian Majidi - lead vocals
Marouf Majidi - tar, background vocals
Lotta-Maria Pitkänen - violin
Simo Kärki - bass
Ricardo Padilla - percussion, background vocals
Esko Grundström - keyboards, 12-string guitar, accordion

Guest musicians on this recording:
Jukka Kääriäinen - acoustic guitar (2)
Janne Halonen - background vocals, electric guitars (2), acoustic guitar (1)
Noël Saïzonou - percussion (2)
Ahoora Hosseini - daf (5 & 8)
Riitta Keränen - background vocals (2)

Låtlista

1. Mn Bo To
2. Be To
3. Menzianem
4. Chaukanet
5. Faryad
6. Se Godar
7. Pashiman
8. Yar


KurdiskPersisktFinskt Folk

Bröderna Marouf ock Gian återförenas efter studier på olika håll ock bildar BaranBand - Baran betyder regn. I bandet ock på albumet Mn Bo To finner vi mängder av musiker som bröderna lärt känna längs vägen, främst från Finland.
De Kurdiska bröderna Majidi:s musikaliska väg till ett regnigt Finland går från Iran via mellanöstern ock nordafrika. Det är en väg som vid första anblicken är ett enda långt KurdiskPersiskt Party av slagverk ock kurdisk (?) stämsång, stundtals smäktande, ibland pampigt, men som vid närmare lyssnande oftast har ett vemodigt regngrått moln hängande i horisonten. Jag vill lite nonchalant kalla BaranBand ett Finskt svar på Ale Möller Band.

Kolla in mer på BaranBand | باران بند @
Lennarrrt "Mr Z" Olausson
www.ib2.se
Review.Lennarrrt.xyz
~
Join Generation XYZ
@
gen.xyz
Photo from:
BaranBand.com