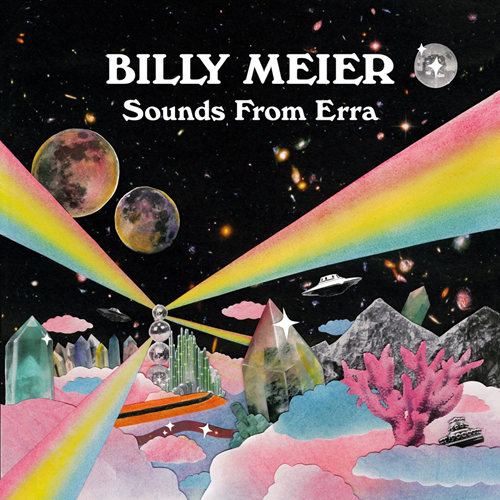 Grupp/artist
Billy Meier
Titel
Sounds from Erra
Skivbolag / Distro
Øra Fonogram
Genre
UFO-Jazz / SpaceJazz
Format
CD
Utgivningsår
2019
Cat. No.:
OF142
the Band:
Hans Kjorstad - violin
Martin Morland - bass
Sander Eriksen Nordahl - guitar
Henriette Eilertsen - flutes, synthesizer
Ivar Myrset Asheim - drums, sample pad
Låtlista
Leaving Planet Earth
Contact
Semjase's Cry (To Her Lost Lover Billy)
Beamship View
A Planet Of Plants
Plejarens By The River
Space Train
Plejarens In The Forest
Magical Mystery Pond
Billy's Night Out
Luminescent Squirrels
Double Full Moon
Leaving Planet Erra
Episk ljudrymd
Det är inte personen "Billy" Meier som landat sina ljudupptagningar i form av albumet Sounds of Erra. Nej, ombord på denna musikaliska farkost är norska UFOjazz-gruppen Billy Meier, som består av Hans Kjorstad med sin violin, basisten Martin Morland, gitarristen Sander Eriksen Nordahl, slagverkaren Ivar Myrset Asheim samt Henriette Hvidsten Eilertsen bland flöjter ock synthesizrar. Ensemblen Billy Meier är dock starkt inspirerade av "Billy" Meiers berättelser ock upplevelser (!) om ock från planeten Erra. Detta andra album av Billy Meier tar oss med på en vistelse hos våra avlägsna släktingar på Erra, ock tillbaka till jorden igen. Sounds of Erra är en psykedelisk, polyfonisk ock ambient ljudvärld med inslag av spoken word sagolikt framförda av Emily C Brannigan. Det är en musikidévärld inspirerad av Joe Meek, norsk folkmusik ock Coltranes sista frijazziga år. Mina första tankar går dock till Harry Martinsons filmaktuella epos Aniara, med den skillnaden att Billy Meier faktiskt når tänkt destination ock tryggt återför oss till jorden igen.
Billy Meier ger oss med albumet Sounds from Erra en trevlig söndagsmatinétripp där bildskapandet överlämnats till lyssnarna.
Lennarrrt "Mr Z" Olausson
www.ib2.se
Kolla in mer på ØraFonogram.no


"Billy" Eduard Albert Meier mUFOn.com ~ WIKIpedia