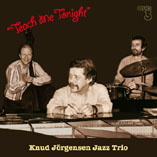 Grupp/artist
Knud Jörgensen Jazz Trio
Titel
Teach Me Tonight
Format
SACD
Genre
instr. laidback PianoTrioJazz
Utgivningsår
2010 ReMastered. (Orginal 1984)
Producerad av
Jan-Eric Persson
Skivbolag
opus3records
Product Code:
CD 8421
The Trio:
Knud Jörgensen: Piano
Johan Dielemans: Drums
Sture Åkerberg: Upright bass
Låtlista
01. Satin Doll (D. Ellington - B. Strayhorn)
02. Softly as in the Morning Sunrise (S. Romberg)
03. Too Late Now (B.Lane)
04. You Look Good to Me (Lefco - Wells Jr.)
05. It Might as well be Spring (R. Rogers)
06. My Heart Stood Still (R. Rogers)
07. Teach Me Tonight (M. Gene de Paul)
Less is More. Igen.
Det finns just nu 1 trend bland remastra & ge ut igen-skivorna som ramlar in i nyhetsmailen – Less is More. Bl a Bob Dylans nysläppta 'The Orginal Mono Recordings' 8 CD-box med monovinylen från 1962-1968, som återsläpps i just remastrad mono. Helt enligt devisen som Jan Gradvall myntade i DI Weekend "All musik som spelats in före 1968 låter bättre i mono". Även Audiophile-skivbolaget Opus3 följer denna trend när de nu släpper 'Teach Me Tonight' (Knud Jörgensen Jazz Trio:s debut från 1984) remastrad ock i SuperAudioCD Stereo-format, ock inte som Mulitchannel / Surround.
Vad jag hör när jag stoppar den lätt guldskimmrande CD i spelaren är grymt sväng från Knuds klinkande, Johans vispande & Stures ståbas. Laidback lågmäld jazz som absolut inte går att sitta still till. Å så fortsätter det genom alla 7 spåren. Jag sitter med ett litet leende ock vickar huvet, stampar med fötterna & knäpper med fingrarna i takt till musiken i 40 minuter... Fast det är väl därför som det kallas Swing...
Kort & gott: Musikaliska Molotov cocktails, som Lars O' Månsson uttrycker det i konvolutet. Great!!
Kolla in mer på opus3records.com/jazz_swing.html#8421
Lennart "Mr Z" Olausson
www.ib2.se