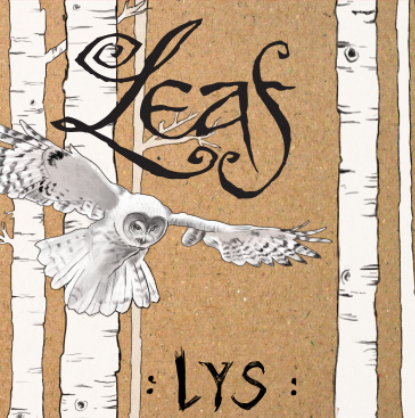 Graphic album design and illustrations by Charlotte Boer
Grupp/artist
L.E.A.F
Titel
:LYS:

Skivbolag / Distro
3Norns Productions / Banshee Records
Genre
Pagan Nordic Post Folk (Pop Rock)
Format
CD
Utgivningsår
2015
Product Code:
00762/LC18466
The "Band":
Kati Ran | LEAF songwriting, vocals, hammered dulcimer, nyckelharpa, sami-drum, framedrum, Irish bodhrán, Kraviklyra, kantele, (overtone) flutes, mouthharps, bones & other stuff..

aka

Music by Kati Ran and Christopher Juul
Song Arrangements by Christopher Juul
Composition by Kati Ran and Christopher Juul

Lead vocals by Kati Ran
Nyckelharpa and hammered dulcimer by Kati Ran
All other instruments performed by Christopher Juul

Celtic harp on Flamme, Harpa, Nymånen and Sol by Chloe Bakker
Violin on Terveh by Nilla Flowerface of Saffron Sun
Acoustic guitar on Terveh Philip Xander of Saffron Sun
Mandora and guitar on Harpa and Fylgja by Oliver S. Tyr of FAUN
Acoustic guitar on Ran by Harald Juul of Euzen
Additional vocals on Flamme and Suurin by Kai Uwe Faust of HEILUNG
Additional vocals on Vinda and Suurin by Maria Franz of Euzen
Additional vocals on Sol by Kristian Uhre of Euzen
Låtlista

01. Flamme 05:53 (Norwegian)
02. Sᛟl 04:45 (English)
03. Ran 04:35 (Old Norse / Swedish)
04. Terveh 03:42 (Ancient Finnish)
05. Harpa Tᛟner 06:06 (Norwegian)
06. Nymᛟnen 04:14 (Swedish)
07. Vinda 02:30 (Norwegian)
08. Fylgja 03:45 (German)
09. Suurin 05:57 (Ancient Finnish)
10. Lys 03:33 (Norwegian Galdr)


Ett Holländskt Löv bärs av den Nordiska Vinden
När Holländska multiinstrumentalisten Kati Ran tar sina egna texter ock blandar upp dessa med forntida nordisk poesi ock shamanska riter sprungna framförallt från Finska Karelen, ackompanjerade med så väl nyckelharpa, mungiga, Irländsk bouzouki, Finsk kantele m m m m kallar hon sig L.E.A.F. Vid en första anblick framstår detta album, kallat :LYS:, som ett soloalbum, men börja man gräva lite framgår att danske Christopher Juul spunnit många trådar - arrangerat, spelat, mixat, producerat, men även bjudit in några musikaliska vänner i sin närhet för att frambringa ljuset.
På :LYS: får vi höra att Kati även är multispråklig, då hon serverar naturnära hymner i Nordisk Folkdräkt med mycket rymd på Svenska, FornFinska, Norska, Tyska ock Engelska med bravur. Mitt favoritspår blir snabbt Ran (låttiteln syftar på havsdjupets gudinna i den nordiska mytologin) vilket låter som något Sofia Talvik skulle kunna göra i stunder av Svensk Folkmusik inspiration. Det börjar som en vaggvisa, ja som en lätt krusning på vattenytan i solnedgången. Men sjön är oberäknelig. När nattens mörker kommer kan små krusningar snabbt växla till skrämmande stark sjögång… Precis som sej bör när vi befinner oss i gränslandet mellan myt, mystik & fantasi… LYSande.



Kolla in mer på leaf-music.com
Lennarrrt "Mr Z" Olausson
www.ib2.se
U can also Read Arjan @ CeltCast.com
(english review)