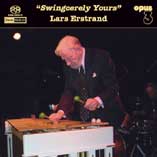 Grupp/artist
Lars Erstrand
Titel
Swingcerely Yours The Best of Lars Erstrand 1983 - 1995
Format
SACD Multi-channel / Hybrid
Genre
Instr. Jazz / Swing
Utgivningsår
2008
Skivbolag
opus3records
Product Code:
CD22081
Musiker
Lars Erstrand – vibraphone
Bob Barnard - cornet
Danny Moss - tenor sax
Jan Lundgren - piano
Kjell Öhman - piano & Hammond B-3 organ
Knud Jörgensen - piano
Rolf Larsson - piano
Ove Lind - clarinet
Roy Williams - trombone
Låtlista
01. Gladys (L. Hampton - B. Mackel)
02. Concerto D´Anranjuez (J. Rodrigo)
03. Reunion Blues (M. Jackson)
04. Too Good To Be True (C. Boland)
05. Body And Soul (J. Green-E. Heyman-R. Sour-F. Eyton)
06. The Rabbit Jumps (B. Wilber)
07. Stompin' At The Savoy (B. Goodman-E. Sampson-C. Webb)
08. I Must Have That Man (J. Mc Hugh-D. Fields)
09. Avalon (V. Rose-B. De Sylvia-A. Jolson)
10. East Of The Sun (E. Bowman-S. Brooks)
11. Sweet Georgia Brown (B. Bernie-M. Pinkard-K. Casey)
12. Old Folks (W. Robinson)
13.One For The Woofer (B. Taylor)
14. Don't Take Your Love From Me (H. Nemo)
15. It's the Talk Of The Town (M. Symes-A. Neiburg-J. Livingston)
16. Small Fry (H. Carmichael)
Från ett annat årtusende, men ändå här & nu
1 fantastiskt samlingsalbum med vibrafonisten Lars Erstrands Opus3-utgivningar 1983 – 1995. Ett gott driv & makalöst sväng genom hela plattan gör att jag inte kan sitta still en enda sekund av de nästa 80 minuter som skivan puttrar & bubblar ur mina högtalare.
'One for the woofer' sticker ut lite extra – Lars värmer upp woofern med lite vibrafon. Sen kommer Kjell på Hammond ock drar iväg något alldeles extra, så att Lars blir alldeles i extas. När sedan låten inte har så mycket kvar, då är woofern tillräckligt varm för ett race av Tommy på basen. Hela tiden glatt pådrivande av Leifs trummor. Denna låt kommer från Dream Dancing från -91 som måste varit ett fantastiskt album, för här återfinns även 'Old folks'. 1 något lugnare "alldeles-för-sent-på-natten-jag-borde-gått-hem-för-flera-timmar-sedan"-låt, där Kjell låter pianot hålla tonerna lite längre.
Lite samma känsla får man av 'Body and Soul', inspelad -84, där Knud istället finns vid pianot. Rolands tenorsax driver låten fram till Lars parti startar. Här briljerar Lars. Länge. Lysande!
Betyg: 7/7
eller: Mer av Lars & hans vibrafon åt folket!!
För mer info börja att kolla http://www.opus3records.com/artists/jazz/sacd22081.html
Lennart "Mr Z" Olausson / www.ib2.se