Grupp/artist
Tall Tales
Titel
Birch Tree Mind
Skivbolag / Distro
Prophone Records / Naxos
Genre
Jazzig LjudlandskapsPop
Format
LP
Utgivningsår
2018
Cat. No.:
PLP174
the Band:
Arvid Ingberg - Composition, production, trombone, vocals, keyboards
Samuel Muntlin - Tenor saxophone, woodwinds
Johan Christoffersson - Alto Saxophone
Albin Grahn - Trumpet
Jonatan Lundin - Bass
Oskar Alex - Bass
Antoni Yammin - Bass
Oscar Calle Broberg - Guitar
Alexander Markman - Guitar
Efraim Törnfeldt - Guitar
Emmanuel Hailemariam - Guitar
Erik Fhager - Guitar
Petter Alin - Guitar
Johannes Jareteg - Keyboards
Rasmus Lindelöw - Keyboards
Marcus Sturewall - Keyboards
Johanna Edberg - Vocals
Lovisa Jennervall - Vocals
Melanie Taylor - Vocals
Ludwig Gustavsson - Drums
Simon Liljeblad - Drums

Låtlista

A1. Music For World Peace
A2. Let There Be Light
A3. Tigris
A4. I Remember When You Sang For Me
A5. Long Was My Slumber
B1. Sweet Morning
B2. Rymden
B3. Woodwork
B4. Raketen
B5. Music For EH
JazzBlåsigt sus bland björklöv
Det som 2015 startade som ett examensprojekt på Musikhögskolan i Stockholm av basisten Oskar Alex och trombonisten Arvid Ingberg har nu blivit ett musikkollektiv. Namnet Tall Tales är kvar. Oskar har dragit sig tillbaka något, så nu när andra albumet Birch Tree Mind anländer till en skivbutik nära ditt tangentbord står Arvid som bandledare. Även det funkiga i ljudlandskapen har dragit sig tillbaka något, ock istället börjat närma sig något som kan beskrivas som ett Wintergatan-sound. Det har även smugit sig in en känsla av filmmusik, speciellt på spåret I Remember When You Sang For Me som direkt får mej att tänka på temalåten till Bondfilmen The World is not Enough som gjordes av Garbage. Vid genomlyssnandet av Birch Tree Mind återkommer ständigt en liten ljudrymdsmässig referenskänsla, likt en stilla susning bland björklöven - ett bossafritt nedfunkat Funkservice International från tidigt 2000-tal…
Även om det i björkarnas minne finns ylande elgitarrer, skönt popande sång, moogar & sakrala orglar, så tror jag ändå att det är vinddraget från blåssektionen som består längst...
Kolla in mer på TallTales.se
Lennarrrt "Mr Z" Olausson
www.ib2.se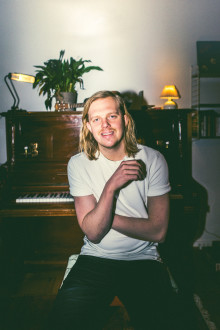 photo af Jennifer Kivinen